Does the idea of getting more time in your day and keeping more money in your pocket knock your socks off?
If you're like most business owners, you're probably spending a lot of your time on less-than productive tasks, and many of them are likely HR-related. Or you might try to delegate HR related tasks to what the industry calls, "ad hoc HR managers" (aHRMs) whose role is primarily an office administrator, COO or finance. It's understandable that small businesses will try to cut expenses and go this route, but when studies show that only 20% of these aHRMs trust their abilities to manage HR without making a mistake, you may want to reconsider. See the infographic to learn more.
When your business is growing, your needs probably feel like a moving target. From hiring and training, to benefit coordination and performance evaluations, your investment of time can quickly add up. But The HR Team can provide relief.
With our full outsourcing solution, The HR Team seamlessly becomes your HR department. You'll receive ongoing support tailored to suit your business' specific needs with dependable strategic and tactical services you can rely on. If you haven't given serious thought to outsourcing, the range of tasks that can be offloaded to us might surprise you. As our client, you'll be assigned a dedicated, experienced professional to handle all of your HR needs, including:
Talent Acquisition
Onboarding
Performance Management
Development of Policies, Procedures, & Processes
Development of Career Paths
Defining Training & Development Needs
Employee Relations
Benefits Management
---
Take a step in the right direction
---
Put your best foot forward.
In today's fast paced, unpredictable work environment, human resources must be a top priority for businesses in every industry. Those who realize this fact can respond in four ways:
Do it yourself (like you really have time for that)
Hire an internal experienced HR person or team (ok, but that can get real expensive, real fast)
Hire an internal less-experienced HR person (you might save a few bucks, but who's going to train them?)
Outsource to an experienced HR consultant (or better yet, one that is aligned with an experienced team)
If you picked #4, ding, ding, ding…you're correct! Statistics show that each year more companies turn to outsourcing to manage their critical human resources function.
The HR Team provides competent, responsive full-service support to businesses facing any number of human resources challenges. Perhaps an organizational restructuring is on the horizon and you aren't sure where to turn, or you've got too much to handle internally and need more bench strength. Whether your company is experiencing significant growth or you want to relieve your overburdened team of professionals, we're here with knowledgeable experts to provide the solutions and strategies that are right for you.
The HR Team offers a unique combination of depth of experience, flexible service models, and tailored solutions that respond to the needs of organizations of all types and sizes. Our HR outsourcing services allow our clients to realize the best results from their people and their workplace cultures. When you choose the HR Team, you'll enjoy the peace of mind that comes from minimized risk and unparalleled support. We make it easy to get your business on the right track.
What are the benefits of outsourcing to The HR Team?
Cost Savings Outsourced HR services can produce significant savings as compared to employing a full-time qualified HR professional, which can cost between $70,000-120,000 annually – not including the additional expense of benefits, taxes, workspace, HR resources, and training.
Experience Outsourcing provides access to knowledgeable consultants who have first-hand experience facilitating HR services across a variety of industries. Our HR professionals strive to be the first to know about policy and regulation changes that can affect your workplace.
Consistent Level of Service Full documentation of all HR processes allows other members of our team to step in and provide support when necessary. Companies don't have to worry about any one individual holding the keys to their specific duties and responsibilities.
Flexibility and Full Customization Companies can customize support services and onsite schedules that work best for them. Whether managing benefits, providing employee relations, coaching and counseling, or conducting interviews, HR outsourcing provides maximum flexibility.
Resources Access to our state-of-the-art HR tools such as the Bloomberg BNA Library, Applicant Tracking System, and ERI Compensation Assessor at no additional cost to you (approximately a $25,000 annual value!)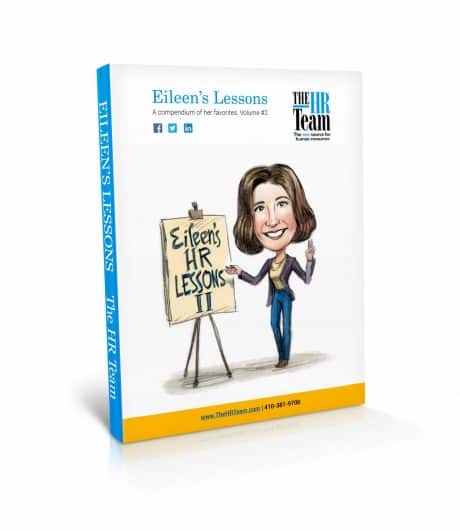 Eileen's HR Lessons
A compendium of her favorites.
Volume #2
If you missed Volume 1, Get it Here.
---
If full-scale HR outsourcing isn't the right fit for your organization, not to worry. We also offer most of the same services on a project-by-project basis. Learn more about our extensive suite of HR consulting services or click the links below.